The Nowthen Threshing Show Features Stover Engines
August 16 - 18, 2013
History of the Stover Engine Works
Stover horizontal engines epitomized heavy duty design.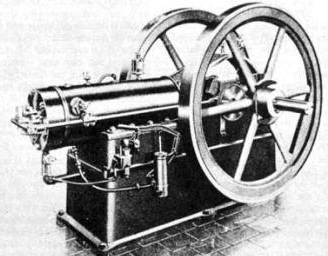 D.C. Stover began building windmills in the 1870s. Stover's inventive bent was by no means limited to windmill developments. During his life, Mr. Stover developed a host of machines, including feed grinders, spring making machinery, and numerous other inventions. The "Stover style" barbed wire is eagerly sought by barbed wire collectors.
Gas engine experiments began in the Stover shops in 1895. Undoubtedly, several experimental styles emerged prior to the earliest production models. Photographic evidence indicates that the earliest Stover engines were of the side shaft style, although there are no references to their engine in Stover literature, and none are known to exist.
During 1903 and 1904, Stover engines assumed the basic designs that were used for about 20 years. The rapid technological changes which occurred during this period saw phenomenal improvements in design, yet the early Stover engines were able to prevail for an exceptionally long time compared to many competitors. A 1905 Stover catalog illustrates the 2, 3, and 5 horsepower vertical engines. Existing records show that the 2 horsepower Style A was originally given a 1 horsepower rating-only 613 of these engines were built. Likewise, the Style B, 3 horsepower engine was re-rated to 4 horsepower, effective with No. 20488 of March 3, 1910. The 5 horse-power size was re-rated to 4 horsepower, effective with No. 21208 of May 18, 1910. Prior to the 1910 modifications and new horsepower ratings, the Stover vertical engines featured a one-piece cylinder and crankcase. After this time the cylinder and crank case were cast separately.
Regular features of the Stover vertical engines were a fuel pump, overflow-type mixer, and enclosed crankcase. The fuel tank was situated in the engine base, but could also be located outside the building if desired.
At the top of the vertical engine series stood the Style S, 9 horsepower model. The first of these engines was No. 9080,with production ending after 41 units. The Style S engine used a one-piece cylinder and crankcase. Production of this style ended with the March 12, 1910 introduction of the Style YS engine, a 10 horsepower model featuring a separate cylinder and crankcase. Only 51 of these engines had been erected at the end of production on June 18, 1917.
At a time when many builders were using built-up crankshafts, Stover came through with a drop forged crank for maximum strength. For portable use, the full base on this engine was removed and the engine bed itself was mounted on the trucks. Friction clutch pulleys were available at extra cost.
By 1905, the Stover engine line also included ten different sizes of horizontal engines, ranging from 5 to 40 horsepower. All were of the same basic style. Electric make-and-break ignition was standard equipment, although hot tube ignition was available on special order. The larger models above 14 horsepower featured a hand-operated air starting device. All models in this series featured hit-and-miss governing.
The very extensive line of Stover engines precludes an all-inclusive history in the form of magazine articles. Research has now begun on a book-length history of the Stover operations, including engines, windmills, grinders, and many other Stover products. Any data, catalogs, etc., on this company will be appreciated.
Although this design had the obvious advantage of exceptional strength and rigidity, there were attendant disadvantages. First of all, a worn cylinder necessitated replacement of practically the entire engine. Machining such a large casting also carried the risk of scrapping a very expensive piece of work in case of a defect or machining error.
This self-contained unit eliminated the job of pumping water by hand during those times when the windmill was broken down or worse yet,when there just wasn't enough wind to do the job. Every farmer knew that the windmill stood still when the weather was the hottest and the livestock their thirstiest. This little outfit solved the problem whether there was wind or not.
By C.H.Wendel
May/June 1981
Information provided by http://gasengine.farmcollector.com/Gas-Engines/STOVER-ENGINE-WORKS.aspx