The Nowthen Threshing Show Features John Deere
August 19 - 21, 2011
(Information provided from the world wide web)
The Story of John Deere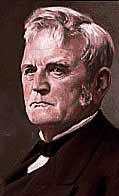 The story of John Deere, who developed the world's first commercially successful, self-scouring steel plow, closely parallels the settlement and development of the Midwestern United States, an area that the homesteaders of the 19th century considered the golden land of promise.
John Deere was born in Rutland, Vermont, February 7, 1804. He spent his boyhood and young adulthood in Middlebury, Vermont, where he received a common school education and served a four-year apprenticeship learning the blacksmith's trade.
Gained Fame as a Blacksmith
In 1825, he began his career as a journeyman blacksmith and soon gained considerable fame for his careful workmanship and ingenuity. His highly polished hay forks and shovels especially were in great demand throughout western Vermont. But business conditions in Vermont became depressed in the mid-1830s, and the future looked gloomy for the ambitious young blacksmith. Many natives of Vermont immigrated to the West, and the tales of golden opportunity that filtered back to Vermont so stirred John Deere's enthusiasm that he decided to dispose of his business and join the pioneers.
He left his wife and family, who were to join him later, and set out with a bundle of tools and a small amount of cash. After traveling many weeks by canal boat, lake boat, and stagecoach, he reached the village of Grand Detour, Illinois, which had been settled by Leonard Andrus and others from his native Vermont. The need for a blacksmith was so great that two days after his arrival in 1836 he had built a forge and was busy serving the community.
Cast-Iron Plows Wouldn't Work
There was much to be done - shoeing horses and oxen, and repairing the plows and other equipment for the pioneer farmers. From them he learned of the serious problem they encountered in trying to farm the fertile soil of the Midwest. The cast-iron plows they had brought with them from the East were designed for the light, sandy New England soil. The rich Midwestern soil clung to the plow bottoms and every few steps it was necessary to scrape the soil from the plow. Plowing was a slow and laborious task. Many pioneers were discouraged and were considering moving on, or heading back east.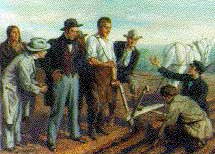 John Deere studied the problem and became convinced that a plow with a highly polished and properly shaped moldboard and share ought to scour itself as it turned the furrow slice. He fashioned such a plow in 1837, using the steel from a broken saw blade, and successfully tested it on the farm of Lewis Crandall near Grand Detour.
Steel Plow Met Prairie Needs
Deere's steel plow proved to be the answer pioneer farmers needed for successful farming in what was then "the West." But his contribution to the growth of American agriculture far exceeded just the development of a successful steel plow.
It was the practice of that day for blacksmiths to build tools on order for customers. But John Deere went into the business of manufacturing plows before he had orders for them. He would produce a supply of plows and then take them to the country to be sold - an entirely new approach to manufacturing and selling in those early pioneer days, and one that quickly spread the word of John Deere's "self-polishers."
Imported Steel From England
There were many problems involved in attempting to operate a manufacturing business on the frontier - few banks, poor transportation, and a scarcity of steel, among others. John Deere's first plows had to be produced with whatever pieces of steel he could locate. In 1843, he arranged for a shipment of special rolled steel from England. This steel had to be shipped across the Atlantic Ocean by steamship, up the Mississippi and Illinois Rivers by packet boat, and over land by wagon 40 miles to the little plow factory in Grand Detour.
In 1846, the first slab of cast plow steel ever rolled in the United States was made for John Deere and shipped from Pittsburgh to Moline, Illinois, where it was ready for use in the factory Deere opened there in 1848 to take advantage of the water power and transportation offered by the Mississippi River.
Insisted on Quality and Research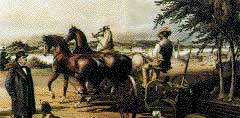 Ten years after he developed his first plow, John Deere was producing 1,000 plows a year. In those early years of his business, Deere laid down several precepts that have been followed faithfully since then by the company he founded. Among them was his insistence on high standards of quality. John Deere vowed: "I will never put my name on a product that does not have in it the best that is in me."
One of his early partners chided him for constantly making changes in design. His partner said his work was unnecessary because the farmers had to take whatever they produced. Deere is said to have replied, "They haven't got to take what we make and somebody else will beat us, and we will lose our trade." Deere & Company has continued throughout its history to place a strong emphasis on product development and improvement. It has consistently devoted a higher share of its income to product research and development than most other companies in its industries.
In 1868, Deere's business was incorporated under the name Deere & Company. The following year John Deere's son, Charles, who was later to succeed him as president, was elected vice president and treasurer.
Charles Deere Expanded Company
Charles Deere was an outstanding businessman who established marketing centers, called branch houses, to serve the network of independent retail dealers. By the time of Charles Deere's death in 1907, the company was making a wide range of steel plows, cultivators, corn and cotton planters, and other implements.
In 1911, under Deere & Company's third president, William Butterworth, six noncompeting farm equipment companies were brought into the Deere organization, establishing the company as a full-line manufacturer of farm equipment. In 1918, the company purchased the Waterloo Gasoline Traction Engine Company in Waterloo, Iowa, and tractors became an important part of the John Deere line.
Emphasis on Research and Engineering
Charles Deere Wiman, a great-grandson of John Deere, took over direction of the company in 1928. During the period when modern agriculture was developing, his strong emphasis on engineering and product development resulted in rapid growth. Despite the depression that gripped the nation in the 1930s, the company achieved $100 million in gross sales for the first time in its history in 1937, the year of its centennial celebration. During World War II, Wiman and wartime president Burton Peek continued the emphasis on product design, putting the company in a strong position competitively in the postwar market. Before Wiman's death in 1955, the company was firmly established as one of the nation's 100 largest manufacturing businesses.
Under the leadership of William A. Hewitt, who headed the company from 1955 to 1982, the John Deere organization experienced one of its greatest periods of growth. Manufacturing and marketing operations were established worldwide, and Deere became the leading producer of farm equipment in the world, as well as a major producer of construction and forestry equipment, and lawn care products.
Robert A. Hanson, who had served the company as president and chief operating officer, succeeded Hewitt as chief executive officer in 1982 and guided the company through one of its most difficult economic periods. Under his leadership, the company emerged as a more dynamic, flexible organization, better able to react to growing worldwide competition. The company rose from the turbulence of the 1980s to post record sales and earnings in the last three years of the decade.

Hans W. Becherer was elected chairman in 1990, succeeding Hanson, with whom he had served as president and chief executive officer. Becherer had been closely involved in the management actions that were so successful in establishing the company on the new foundations demanded by the 1980s and beyond. Like Hanson, Becherer invested much of his long career in developing the company's international operations. In six of his years as chairman, the company earned record profits. Mr. Becherer also was a leader in the redevelopment of downtown Moline and for the development of the TPC at Deere Run and the John Deere Classic PGA TOUR event. In 2000, Mr. Becherer retired.
At the time that Mr. Becherer retired in August 2000, Robert W. Lane was elected chairman of the Deere & Company board of directors. He was already serving as chief executive officer and president. Mr. Lane has a broad range of managerial experience with John Deere, including his leadership of the worldwide agricultural equipment division, the credit organization and equipment operations across the world. This experience combined with his tenure in banking provide Mr. Lane the experience and background required for him to help the company extend John Deere's preeminence in the global marketplace.