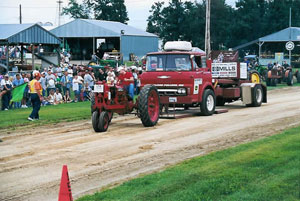 The tractor pull in August is split over two nights on the grounds during the Nowthen Threshing Show. Friday night starts with the antique, classic, and improved tractors. The pull continues Saturday night with classic and improved tractors.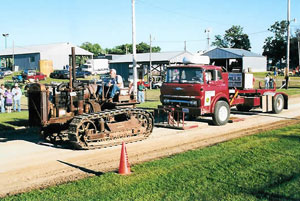 There are also some unique demo pulls during the pull that usually include a Steam Tractor which will emit sparks in the night sky. The tractor pulls are included in your gate admission to the show for that day. No additional tickets or costs are required to watch the tractor pull! See the Daily Schedule for exact dates and times. A detailed rules document for the August pulls will be posted below about a month before the show date.
Separate from the two night tractor pull is an antique pull on Sunday afternoon after the parade of power concludes. This tractor pull allows exhibitors to test and demonstrate the power of antique tractors without modification.
See past pull results below.