The Nowthen Threshing Show is a three day event that takes place annually on the third full weekend (Friday through Sunday) in August.
Guests can watch history happen by watching corn chopping, blacksmithing, grain threshing, and sawmill demonstrations, or experience historic culture by wandering through the old restored school, church, log buildings, and train depot on the grounds.
Guests are welcome to wander the grounds through the many rows of antique tractors and machinery, or they can sit back and watch the antiques come to you during our daily Parade of Power. Music, tractor pulls, or children's activities, all of our entertainment is available free of charge throughout the weekend. Our guests, young and old, can sit down and enjoy listening to one of the many free concerts performed throughout the day at the pavilion or watch the tractor pull on Friday and Saturday night featuring multiple classes or the tractor pull Sunday afternoon featuring only historic tractors. Guests can stroll through the large flea market or craft building to peruse the items for sale or purchase breakfast, lunch, or dinner from one of our many food vendors. Children can enjoy the many activities occurring at the log cabin, the petting zoo in the log building, or catch a train ride out of the depot.
Your ticket through the front gate offers you all this and more as we "Bring the Past to the Present."
The Nowthen Threshing Show generally has activities and events happening on the grounds from 7 a.m. to 9 p.m. Friday and Saturday, and from 7 a.m. to 5 p.m. on Sunday. See the daily schedule for more detail on each day's events and the other links under Threshing Show for more details about the show.
If you enjoy the show, be sure to watch the calendar and search this website for all of our other upcoming events and follow us on Facebook!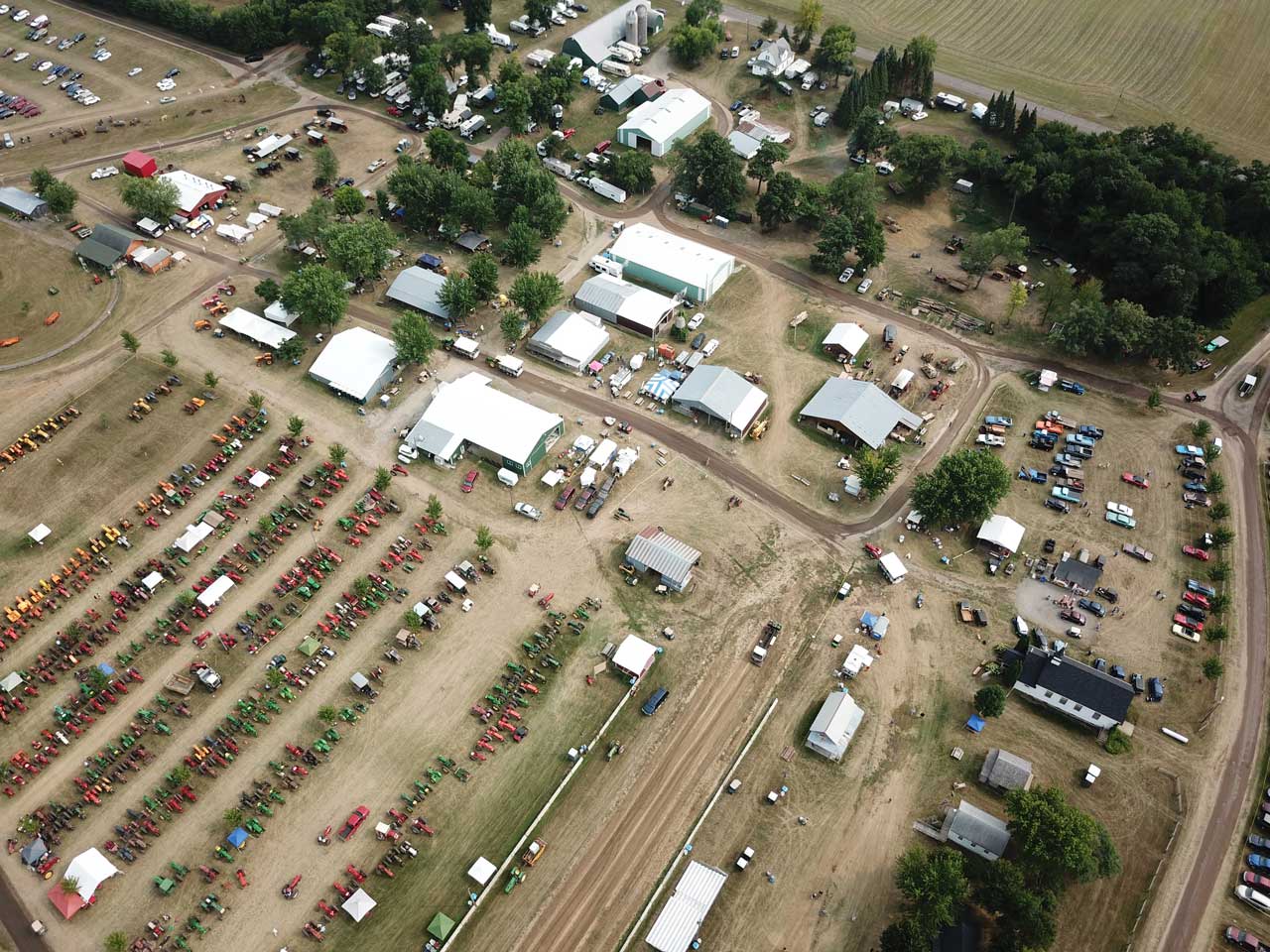 Aerial of the Show Grounds from the 2018 show