The Nowthen Threshing Show Features Fuller & Johnson Gas Engines
August 17 - 19, 2012
Information on Fuller & Johnson Gas Engines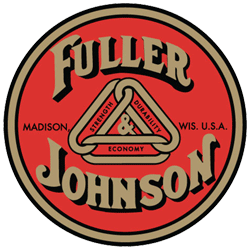 The Fuller & Johnson Co. was an early maker of large gas engines used mostly for power generation, water pumps and grain grinding. Based in Madison,Wisconsin, the company survived from 1902 to 1933.
Earliest Innovations
The Fuller & Johnson factory's first innovation was in 1902, with its oil-cooled engine designed by FrankWinkley. Rated at two, three, 3 1/2 and six horsepower, these engines provided an advantage over water-cooled engines of the day, as oil doesn't freeze in winter. By 1905, technology improved further, and the company evolved to a "hoppercooled" engine that resisted freezing but was lighter and cheaper.
Ups and Downs
Every company is subject to the whims of the market.An unpopular vertical line of Fuller & Johnson gas engines began production in 1905, this one at just one or 2 1/2 horsepower and 540 or 700 lbs., respectively.Also introduced in 1905, however, was the successfully sold double-efficiency model that came in four, six, eight, 10, 12, 16, 18 and 20 horsepower models with steel team trucks to move them around.
Most Common Models
Fuller & Johnson's popular farm pump gas engine was first made in 1909.This engine was air cooled, with two exhaust ports and fully waterproofed.The company made about 56,000 until the company's demise in 1933.
In 1913, Fuller & Johnson's N model of gas cooled engine started a line of hopper-style gas engines that also lasted until the company's end in 1933. First rated in 1 1/2, 2 1/2, four, six, eight and 10 horsepower models, the smaller engines were obsolete by 1925, replaced by the NB then ND.
Information comes from Dan Harkins, eHow Contributor