Biscay Depot History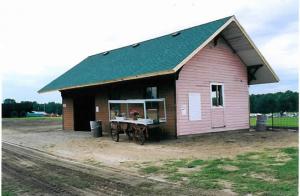 The depot shortly after being moved.
The depot was believed to be built around late 1900 or early 1901. The town of Biscay, Minnesota had been established in 1899, 13 years after the Milwaukee Road built through the neighborhood on their 15 mile extension of a rail line from Glencoe to Hutchinson.
At one time, as many as six or more passenger trains traveled the line from Hutchinson to Glencoe, where passengers could switch to trains headed to the West Coast or the Twin Cities and Chicago. At the time, the train was the only reliable source of transportation.
The Milwaukee abandoned the line in early 1957, and around 1959 the depot was moved from Biscay to Glencoe by Lester Vorlicek, who purchased the depot to use as a warehouse for his electrical business.
The Vorlicek children found the depot a great place to play, except they wouldn't go near it at first after dark. They had heard that someone committed suicide in there, hence, they were scared to go in.
The incident referred to likely took place in August 1906 when it was reported that a 71 year old man, father of a Milwaukee Road worker in Hutchinson, hanged himself in the waiting room of the Biscay depot.
The depot was acquired by the Nowthen Historical Power Association in the fall of 2001, and was moved to a temporary site at the Nowthen Threshing Show grounds on November 23, 2001. The depot was then moved to its permanent location along the railroad tracks on June 29, 2002.
A new roof was recently completed, but extensive restorative work is still to come for the depot. During the summer of 2003 the depot received a new face lift, a marvelous paint job was completed to the outside of the building along with all new windows were installed.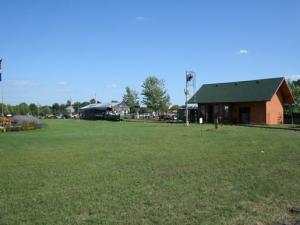 The depot fully restored.
Also during the summer of 2003 a member of the local community, Terry Grace, donated many railroad depot items which will assist Nowthen Historical Power Association in restoring the inside of the depot. If you are interested in contributing to this effort, there is a donation box in the depot.
Check out the photo gallery showing the moving and restoration of the depot.
If you would like further information, please contact Dan Wilhelm at 763-295-2600.